Hi there!
We know that autumn isn't the easy-going season for many of you. Holidays are gone, warm time is going away and the desire to wrap yourself in a blanket and stay at home with hot tea and the last Radiohead's album is harder than ever. Problems with immune system is another common thing for autumn season – doctors will confirm that people are tend to get a cold or a flue mostly autumn. Changeable weather and temperature differences are asking to stock up for drugs. Can mobile apps help to fight with autumn bouquet of diseases and protect health? How? We will answer – they can and how – read on.
Runtastic Me 
Runtastic Me is a great app that tracks your daily habits and your activity each day. It also tracks your daily steps and shows how much calories are burned. App determines your active and "lazy" moments of the day and helps you to identify part of your day when you need to move more. You can compare your progress with the previous periods, or compete with friends by number of steps or active minutes. To find more cool apps for runners and activity tracking we recommend you to read "The 5 Absolute Best Running Apps 2017".
.

Available on: Android, iOS
Price: free
Lifesum – Healthier eating, better living
Lifesum – is a big helper for those who worries to be affected by melancholy or eat too much sweets before going to bed. It shows how you can control your daily diet and physical activity. All you need to do when open this app is to take a lifestyle goal, add a health data and Lifesum will create a plan to help you live better – it will contain a diet and exercises. App will help you how to eat wiser and won't let you forget about vitamins –  a good way to combat vitamin deficiency and become some good habits.
Available on: Android, iOS
Price: free, contains in-app purchase
My water
An app that reminds you how important it is for our body's – to drink water. It is a tracker, which takes into account and monitors your water balance. The application calculates the necessary amount of water, shows statistics in graphs and has motivational tips.
Available on: Android, iOS
Price: free
Runtastic Sleep Better
In autumn, when we are most vulnerable to vitamin deficiency and fatigue, it is important to sleep well. With load at school and deadlines at work it's especially hard to do. Application Runtastic Sleep Better from Runtastic Me developers – is a smart alarm clock that helps you normalize sleep, make it more efficient and to cope with insomnia. Sleep Better analyzes the phases of sleep and identifies which hours are the most favorable for you, what's the best time to go to bed and wake up. In this app, you can also keep the dream journal.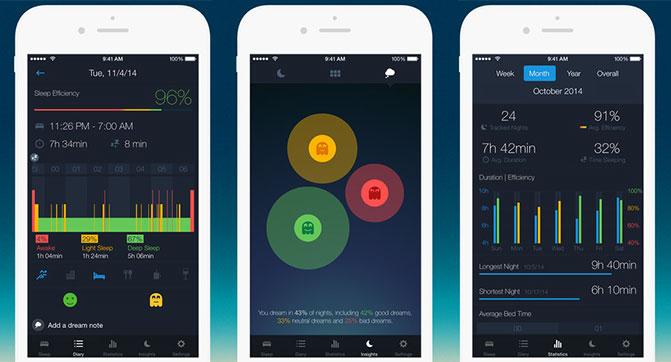 Available on: Android, iOS
Price: free
In case you are with all diligence and care of your health became a cold, we offer you several applications which will help to get better quickly.
WebMD is a great app that helps you with your decision-making and health improvement efforts by providing health information and decision-support tools like WebMD's Symptom Checker, Drugs & Treatments, First Aid Information and Local Health Listings. This app will give you access to first aid information without having to be connected wirelessly – very useful when you don't have Internet access in the time of need.
Available on: Android, iOS
Price: free
HealthTap — Instant help from 105,000+ top doctors
Awesome interactive app that helps you get instant free, trustworthy and personalized answers and support from top doctors right from your phone. It's also available to pay for a virtual consult to video or text chat with a primary care doctor 24/7 or a doctor of your choice during their Virtual Office Hours.
Available on: Android, iOS
Price: free, contains in-app purchases
In this app you can see the rating of the drugs you need. The app allows you to see the drugs analogues and real customer reviews which is very useful.
Available on: Android, iOS
Price: free
All of us have situations in our life when you are so busy, when there are so much information buzzing in head that you forget to take your medication? Medisafe is a useful app with friendly interface that will help you managing your medications, pills, refills, drug interactions, measurements and doctors' appointments to improve your health. It's a pill tracker and planner. Trust us – n you'll never forget to take your meds with this app.
Available on: Android, iOS
Price: free
---
Spend a couple of minutes to download useful apps and save a lot of time and effort on it to strengthen your health or improve it. Allow applications to become your faithful little helpers. Personal advice – listen fewer depressive music and eat less fast food 🙂 Stay toned and healthy!